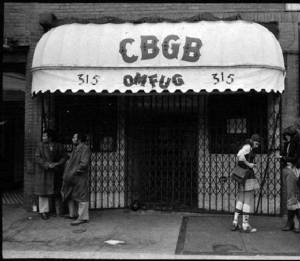 I had the afternoon free and went down the the Tribeca Film Festival (which is being held mostly at 11th Street and 3rd Avenue, Approximately a mile north of Tribeca....but I digress) to see a movie and take part in the festivities. I got there around 3:00 in the afternoon and all the movies that were playing in the next hour were sold out. I got on the line for if there were any tickets available, and waited in the gorgeous 80 degree sun. With my crazy-luck a woman came to the back of the line and told me she had 3 tickets for the documentary on CBGB which she would be happy to sell to me for face value of $7 since her friends decided to bail on her. I quickly took her up on her offer and bought the ticket.
I went inside and it was already quite full so I had 3rd row. Luckily it wasn't the largest of screens and not a stupid, quick-edited action film so the closeness did not bother me.
The movie was quite heartfelt and a great presentation of the facts as I remember them. Hilly Kristal opened the club in 1973 and it quickly became a cultural hot spot since the only requirement to play in the club was that you had to play your own, original music. Since kids quickly went there to play their original music and then subsequently became popular or at least get a following, CBGBs is considered by many to be the birthplace of Punk Rock in New York and then the Harcore Scene in the 80s.
According to the documentary they had to close the club in 2006 after a heated battle between the Bowery Resident's Committee which seemed to be more of a vendetta from BRC president Muzzy Rosenblatt than about the money that CBGBs may have owed due to back rent.
The sad thing is after the club was closed down, Hilly Kristal died only 2 years later. The place truly appeared to be his love and it was obvious from the way he walked around the place and the anguish on his face as he could see the place falling down around him. He literally got sick and died from losing his baby and it is apparent once you watch this movie.
On a personal note, I had gone to CBGBs probably about 10 times for shows from no-names, to friends to actual acts. I loved the mystique of the place and am saddened that it is no longer a fixture in my beloved east village. You can always pay an exorbitant amount to see U2 or someone, but there are not many places you can go to see a bunch of 18 year olds jump up and down on a stage for $8 or less.
I miss the place. Just knowing it was there made me happy, and knowing that if there was a day when I had nothing going on, I could walk in, have a beer and watch someone scream into a microphone for the sake of art or just to express myself. There was a time when I could have probably gotten a gig in that legendary place, and now that it is gone I am kicking myself that I did not try just a little bit harder to make it happen.
This is a great movie about an important fixture in New York City's past, and why it is sad and unfortunate that it is actually a thing of the past. If nothing else, put this on your netflix queue for when it is released on DVD 6 months from now.